Best Practice Survey Template
To prevent missed appointments you need to understand why they're happening. Many Feedtrail clients have an automated missed appointment survey patients receive when they do not show up for an appointment to understand the cause and offer options to reschedule.
Download our missed appointment survey template for best practice questions and suggestions to help you uncover root causes and recoup revenue. The FQHC template includes additional response options that tie to patient access and sliding fee discounts.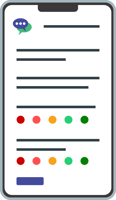 Ready to boost your patient engagement?
Active engagement is the path to better patient health outcomes and satisfaction. But with people's expectations of care rapidly changing, knowing the best way to engage individuals can be challenging. Getting ahead of these shifts is imperative for promoting patient well-being — and securing your reputation with the communities you serve.
Are your tools helping you drive engagement and loyalty?